Difference between revisions of "Magellan Nebula Polish Iskry 1955"
 

Line 18:
Line 18:
 

|foreword=

 

|foreword=

 

|afterword=

 

|afterword=

−

|pages=422

+

|pages=

 

|ISBN=

 

|ISBN=

 

|ISSN=

 

|ISSN=
---
Latest revision as of 14:28, 31 March 2013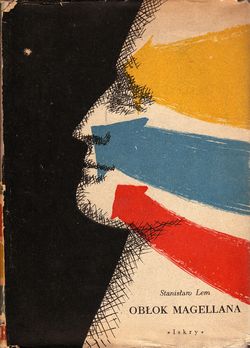 title: Obłok Magellana
original (Polish) title: Obłok Magellana
English title: Magellan Nebula, the
language: Polish
country: Poland
place: Warsaw
form: book
publisher: Iskry
publication date: 1955
edition: first

cover: hard
cover by: Jan Młodożeniec
pages: 424

ISBN:
print-run: 20205
series:


Content: Przedmowa. Wstęp. Dom. Młodość. Maraton. Pożegnanie z ziemią. Gea. Ogród próżni. Gość w przestrzeni. Pilot Ameta. Triony. Złoty gejzer. IX symfonia Beethovena. Narada astrogatorów. Bal. Anna z gwiazd. Piotr z Ganimeda. Bunt. Komuniści. Goobar, jeden z nas. Posąg astrogatora. Początek epoki. Słońca Centaura. United States Interstellar Force. Czerwony Karzeł. Planeta Czerwonego Karła. Towarzysz Goobara. Gwiazdy spadające. Kwiaty ziemi. Obłoki Magellana. Słowniczek Terminów Naukowych i Wyrazów Mniej Znanych.